Review: June 2019 film music concert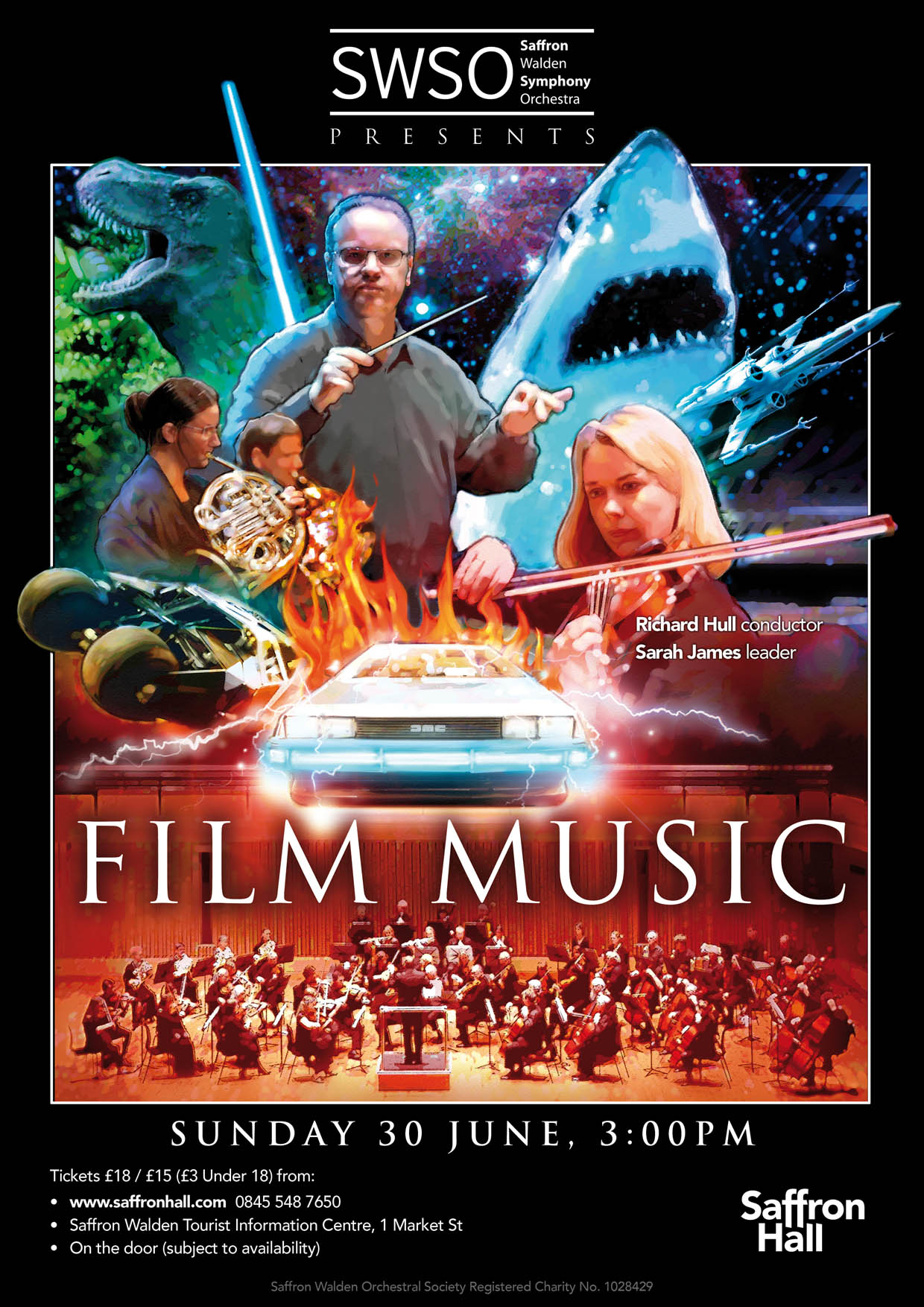 Phones off. Popcorn at the ready. The iconic 20th Century Fox fanfare sounds out across Saffron Hall. It's time to strap into the DeLorean and take a ride through the sounds of the silver screen.
Although the engine took a little time to warm up, we were soon on our way, covering a good span of cinematic history in an afternoon of family-friendly film music, starting with Alan Silvestri's Back to the Future main theme. Hans Erdmann's atmospheric writing for the 1922 Nosferatu: A Symphony of Horror introduced us to the rich, foreboding tones of the lower woodwinds (contrabassoon and bass clarinet). Jurassic Park by John Williams was hot on its heels, the orchestra having gained sufficient momentum to reach the crucial 88mph required to time travel (and leave flaming tyre trails on the road). A well projected horn solo led us into the main theme, also encompassing a solid piano solo. The orchestra seemed to be enjoying themselves by now. Another John Williams score, JFK was nicely played with sumptuous strings and a bold trumpet solo. Next followed 3 contrasting cues: Escapades from the jazz score of Catch Me If You Can, also written by the master, Williams. The first was in a groovy 3 metre, the second a slower movement and the third an up tempo conclusion to this mini concerto featuring fine alto saxophone, vibraphone and double bass playing.
Williams' suspenseful Jaws 'shark theme' opened the second half, with the orchestra achieving a fantastic forte. The ensuing 'out to sea' painted a wonderful picture of the dancing waves, soaring sea gulls, and sailors singing sea shanties happily… but not for long. The tonality shifted and we found ourselves a subject in the 'shark cage fugue'. We then jumped forward in time to Basic Instinct, a very Jerry Goldsmith score showcasing luscious string playing, flowing harp arpeggios and beautifully balanced, precise percussion punctuations. The Dark Knight, scored by Hans Zimmer and James Newton Howard exposed some tasty trombone work and deft ethnic percussion playing. The orchestra carried off Silvestri's heroic yet childlike Forrest Gump film score delightfully. And finally on to a selection from John Williams' enthralling and hugely challenging Star Wars score. A powerful Imperial March was followed by a sensitive rendering of Leia's theme, ending with the main title, which was executed to perfection. Just when it seemed Impossible to top their finale, Richard Hull and his fellow musicians accepted the Mission and accomplished it! Overall, an incredible concert which kept us all on the edge of our seats.
Nathan Collins
Director of Music
Joyce Frankland Academy
Newport